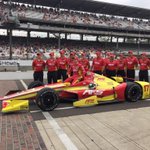 (@SebastianSaavedra via Twitter)
Chip Ganassi Racing's Sebastian Saavedra has dislocated his foot following his crash at the Indianapolis 500 on Sunday.
The Colombian was stuck in his Chip Ganassi Racing No.8 car after crashing at Turn 4 of the Indianapolis Motor Speedway on Sunday. Speaking to the Indianapolis start following his accident, Saavedra who had to have racing boot cut off in order for the safety team to free him from the car.
The Delphi safety crew worked feverishly to free Saavedra from the car and he was carried to a nearby recovery vehicle and transferred to the infield medical centre before being transferred to a nearby hospital for further treatment.
When asked by the Indianapolis Star if he would be racing in Belle Isle this weekend Saavedra replied
'I think that's out of the equation'.
The Colombian confirmed that he is 'super lucky' not to have come away from the Indianapolis 500 with more serious injuries following the accident.
© Ben Johnston 2015