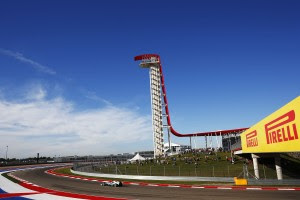 (Pirelli Motorsport Media)
This weekend Formula One is at the Circuit of the Americas in Austin Texas for the United States Grand Prix. The first of three Grand Prix coming up in the run in to this years championship with both Lewis Hamilton and Nico Rosberg firmly in the driving seat at the top of the championship standings.
This weekend Pirelli have brought the white walled Medium and the yellow walled Soft compound tyre's with the performance gap 1.3s between the two compounds.
Over the course of the day 54 sets of the Medium and just 19 sets of the Soft compound tyre were used. The highest number of consecutive laps completed on the Medium tyre was 28 while 24 laps were completed on a single set of the Soft compound.
Mercedes AMG PETRONAS F1 Team's Lewis Hamilton set the fastest time in FP1 of 1m 39.941s on a brand new set of white walled Medium compound while his time in FP2 of 1m 39.085s was completed using a brand new set of the P-Zero yellow walled Soft tyre,
Speaking following the session, Pirelli Motorsport Director Paul Hembrey statedL
'
In the three years that we have been racing at Austin, the track has definitely evolved to provide more grip – and we saw further track evolution during the course of today, exacerbated by the wide variety of temperatures that we were running in.
We're expecting a similar variation in temperatures for the rest of the weekend, including conditions that might be a lot cooler for qualifying tomorrow. From what we can see so far a two-stop strategy looks to be the most likely, but also with the potential for some mixed strategies going down the grid, depending on track position.'
© Ben Johnston 2014