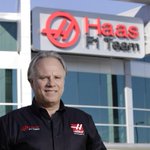 (Haas F1 Team via Twitter)
The Haas F1 Team have confirmed that they have signed former Jaguar and Red Bull Chief Designer Rob Taylor to oversee the design of the new Haas F1 car.
Taylor worked on the first Red Bull car before leaving the team to join McLaren. The new American team who will make their debut next year have the option of running an interim car which would allow them to test later this year however they have decided not to do this.
The development of their first Formula One car is been done by Italian racing car manufacturer Dallara and Taylor will oversee the project with the company.
The team are already working extremely closely with Ferrari and will be attending testing prior to the start of this season to see what happens over the course of the winter testing period.
When it comes to what colour the new car will be, team CEO Gene Haas has stated that he would like the cars to be seen and for him that means the possibility of a yellow car.
(© Ben Johnston 2015)
Will we see a yellow livery for the first time since the Jordan day?
© Ben Johnston 2015