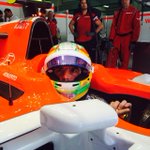 (@ManorF1Team via Twitter)
The Manor F1 Team declared themselves thrilled to be back on track as the action got underway on the opening day of the Malaysian Grand Prix weekend.
The team who went in administration last year, missing the final three Grand Prix of the season in 2014 were rescued by Stephen Fitzpatrick last month having missed all of the winter testing programme.
The team made it out to the opening race of the 2015 Formula One season in Australia two weeks ago but were unable to fire up their Ferrari power unit and was forced to miss the event.
The team managed to fire up their cars in the Manor garage on Thursday having resolved the issues that they faced in Australia and on Friday they got both of their cars out on track for both Free Practice sessions with both Will Stevens and Roberto Merhi completing mileage with their interim 2015 car.
Team Principal John Booth stated that he is very satisfied with what the outfit have achieved in recent months.
Booth was delighted with the progress that the team have made since the Australian Grand Prix but knows that the outfit still have an awful lot of work to do. More importantly for the team both Will Stevens and Roberto Merhi were able to complete lap times that were with the 107 percent regulation.
The team have done an incredible job when you consider that they have very little resources at this moment in time after most of their assets were sold off at auction to help clear the debts that the team had going into this year which resulted in them entering administration.
The team were also boosted the prize money that they received following Jules Bianchi's points finish at the 2014 Monaco Grand Prix which meant that the outfit finished in ninth place in the Constructors championship on two points.
© Ben Johnston 2015