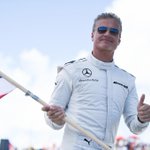 (@RaceOfChampions via Twitter)
Dormer Formula One driver David Coulthard has been crowned champion of champions at the 2014 Race of Champions in Barbados.
Coulthard, competing for TEAM GB at the event beat Mercedes AMG PETRONAS F1 Team reserve driver Pascal Wehrlein at Bushy Park in Barbados. It was Couthard's first victory at the event, his ninth attempt at winning the Race of Champions.
'It's fantastic', the former Williams, McLaren and Red Bull Racing Formula One driver stated after claiming the title.
© Ben Johnston 2014