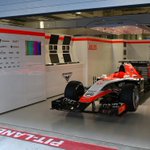 (Marussia F1 Team via Twitter)
The Marussia F1 Team are on the verge of a return to Formula One ahead of the start of the 2015 season, according to their Sporting Director Graeme Lowden confirmed to Sky Sports F1 commentator David Croft that funding is now in place for the team to return to Formula One.
The Marussia F1 Team missed the final three Grand Prix of the season after entering administration in October. The Banbury based outfit finished the 2014 Formula One season in ninth place in the championship after Jules Bianchi scored two points for the team at the Monaco Grand Prix earlier this season.
The team along with rivals Caterham entered administration within a week of each other and although the Caterham F1 Team made it to the season finale in Abu Dhabi, Marussia did not.
The team were within minutes of boarding a flight to the Yas Marina circuit however a last minute financial package that would have enabled the team to race fell through. FRP Advisory, the administrator appointed to oversee the sale of the team confirmed last week that an auction will take place on December 16 – 17 to sale off assets belonging to the team in order to pay back their creditors.
The team did not receive their prize money for 2014 despite finishing in 9th place in the championship.
Lowdon stated that although the funding is now in place the team face a race against time for the deal to be secured. It is also believed that the Caterham F1 Team will be on the grid next season. The 2015 season gets underway in exactly two and a half months or 97 days in Melbourne, Australia.
© Ben Johnston 2014