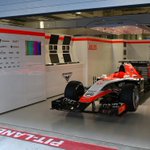 (Marussia F1 Team via Twitter)
Auctioneers CA Global Partners acting on behalf of the administrators FRP Advisory have confirmed that an action will take place on Tuesday and Wednesday 16th and 17th December 2014 to sell of assets belonging to the Marussia F1 Team. The auction takes place at the former factory of the Marussia Formula One Team in Banbury from 10AM each day.
The assets up for sale include the team's fleet of race transporters, a model of their 2015 Formula One car, Complete Marussia F1 Team race cars (minus engines), complete machine shop, large quantity of spare parts and tools along with server equipment.
The auction signals the complete closure of the Marussia Formula One team despite the fact that the team were classified in the 2014 FIA world championship as a result of finishing in ninth place.
For more information regarding the auction visit www.cagp.com and www.gaev.com.
© Ben Johnston 2014