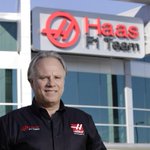 (Haas F1 Team via Twitter)
The new Haas F1 Team's preparations to enter the sport next season are well and truly underway according to Team Principal Guenther Steiner.
The American team have a base in Europe having purchased the Marussia F1 Team's factory in Banbury, Oxfordshire.
Steiner has quashed speculation that team founder Gene Haas is set to rescue the Marussia Formula One Team saying that their plans for their own car are progressing and that the team hope to move into their UK facility by the end of the month and that they should be in a position to name their chief designer in the near future.
Steiner has also revealed that the team have so far employed 50 people to the team and that they are working extremely closely with technical partner Ferrari. The former Jaguar Racing and Red Bull Technical Director has also made it perfectly clear that his team will not run their car early and they will test it for the first time in January next year.
It has been reported today that NASCAR star Jeff Gordon who has announced that this season will be his last in the sport could be a possible driver for the Haas F1 Team but Steiner is adamant that they are not thinking about their driver line up at this point.
Gene Haas stated last year that although it would be nice to have at least one American driver in the team next season it is not essential that this happens but former Marussia F1 Team test and reserve driver Alexander Rossi has confirmed that he is interested in the Haas F1 Team project. Guenther Steiner has confirmed that although the team have bought the Marussia HQ they did NOT purchase any of the intellectual property from the outfit.
© Ben Johnston 2015