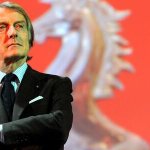 (Scuderia Ferrari SpA via Twitter)
On the eve of the 20th anniversary of the death of Ayrton Senna, Ferrari president Luca Di Montezemelo has revealed that he spoke to the Brazilian about bringing him to the Italian team.
Speaking to Ferrari's official website, Di Montezemelo said that he met with Senna when the Brazilian was in Italy for the San Marino Grand Prix. At the time, Senna was racing for Williams and Di Montezemelo commented that he and Senna spoke about coming up with a way of getting the Brazilian out of his existing contractual obligations.
During their discussions the pair agreed that a move to Ferrari would be great for both parties and would be a way for Senna to further his Formula One career.
Di Montezemelo also revealed that the team were hopeful of signing Senna having failed in their attempt a few year's previously. Sadly, the ambition of both parties coming together would never be realized as a result of the tragic event's of Sunday 1st May.
©Ben Johnston 2014