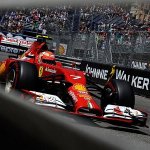 th
(Scuderia Ferrari SpA via Twitter)
Ferrari's Fernando Alonso and Kimi Raikkonen had mixed feelings after locking out the third row of the grid for tomorrow's Monaco Grand Prix. Speaking about his result today, Fernando Alonso, who finished his home race just ahead of Kimi Raikkonen last time out stated:
"Today's result encapsulates the state of play this weekend and it's more or less what we expected, but I don't think it went badly, because we managed to stay ahead of rivals who have been front runners so far, such as
Williams
and
Force India
and, most importantly, we are closer to the Red Bulls. We have made more changes than usual here, because we were suffering with understeer and we had some problems under braking and the car has improved a lot. Compared to what we expected, the tyres seem too hard and we are struggling a lot to get them up to temperature. If the race is run in the dry tomorrow, then it will be an endurance race to see who can stay out on track the longest. However, if it was to rain, as has been suggested, then just getting to the finish will already be a good result, because as we saw on Thursday from the few laps we did, it's really on the limit, like sliding around on ice."

Kimi Raikkonen wasn't terribly happy with how his qualifying performance had gone and he is was not happy with how the tyre's were working on the F14T. The Finn will be hoping to continue his points scoring run after his 7th place finish at the race in Barcelona. The Finn said:
"I'm not happy with this qualifying, because even though we worked hard on the set-up, making several changes, my feeling with the car didn't improve much. Right from Thursday I had to fight to find the best solution and the time lost during the second free practice session certainly didn't help. On top of that, we are not able to make the tyres work well here and in that situation, it's not easy to put together a good lap, especially on a track where you don't get a second chance. Sixth place is not ideal, but neither is it a disaster and tomorrow we will do our best to get the most out of it all."
©Ben Johnston 2014