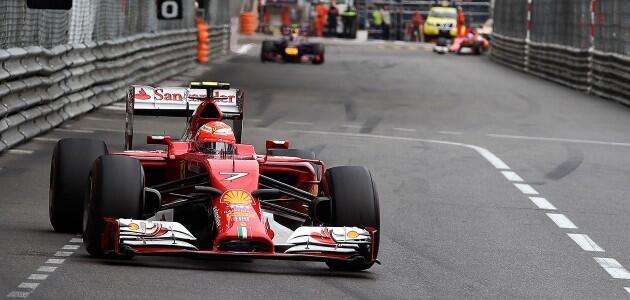 (Scuderia Ferrari SpA via Twitter)
Ferrari's Kimi Raikkonen was disappointed with the his Monaco Grand Prix result after the Finn finished the race in 12th place for the Italian team.
Raikkonen made a fantastic start to the Monaco Grand Prix getting past team mate Fernando Alonso off the line and overtaking Red Bull Racing's Daniel Ricciardo heading into turn 1. The Iceman moved into third when reigning world champion Sebastian Vettel slowed due to a problem with the turbo on his RB10.
Raikkonen did a fantastic job and was in third place making his first stop of the race after which he came back out in the points and managed to make his way back up to the podium place behind the Mercedes duo of Lewis Hamilton and race leader Nico Rosberg when the safety car was deployed.
During this second safety car period the Finn was hit by Marussia's Max Chilton which resulted in a puncture for the Finn which dropped him down the field ending any hope of him claiming his first podium of the season. When asked about the incident after the Grand Prix, Raikkonen said:
'
Nobody talked about the safety car thing until I asked,
It's not very straightforward unfortunately with those things sometimes. Obviously that was the thing that destroyed the race, but clearly they were not very interested.
"They asked why I missed the drivers' parade, but that was because I did not feel very good. So they make a big story about that, but not the main things."
Raikkonen went on to say that he is still struggling with the F14T saying:
'
Small things went wrong and it made a massive difference. It was unfortunate things but I'm still unhappy with the car, the race was better than qualifying, but we still have a long way to go and to be where we want to be."
The next race sees the F1 circus head across the Atlantic to Montreal for the Canadian Grand Prix where last year Raikkonen finished the Grand Prix in 9th place for the Lotus F1 Team and the Finn will be hoping that the new engine that will be in the back of his F14T will help him score more points as he is currently in 12th place in the Driver's standings and is yet to score a podium since his return to Ferrari at the start of this season.

©Ben Johnston 2014