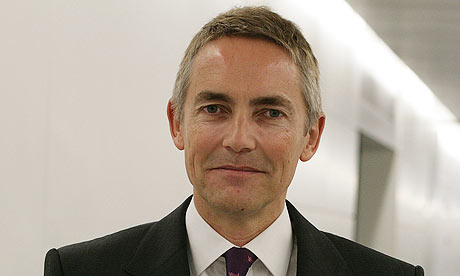 (Guardian.com)
McLaren have officially confirmed confirmed today that they have parted company with former team principal Martin Whitmarsh. The 56 year old who had been in the role since taking over from Ron Dennis ahead of the 2009 season was replaced at the head of the Formula One team at the start this season when Mr Dennis returned to the Formula One set up as Chairman.
Whitmarsh was replaced by former Lotus F1 Team boss Eric Boullier who took up the newly created role of Racing Director as Dennis felt that the role of team principal no longer applied to McLaren due to the hectic schedule of events throughout the season and the need for a constant presence at the race track.
Whitmarsh has not been heard from since being replaced at the team and is now free to pursue other interests as he now no longer part of the McLaren set up.
A McLarem spokesman confirmed that:
'McLaren and Martin Whitmarsh have agreed amicably to part company.'
McLaren also confirmed that Whitmarsh has received a generous package to reflect his 24 years of service to the McLaren Group however the details of that settlement are of course confidential.
It remains to be seen whether or not Whitmarsh will one day return to the Formula One paddock in the future in a team management capacity.
© Ben Johnston 2014