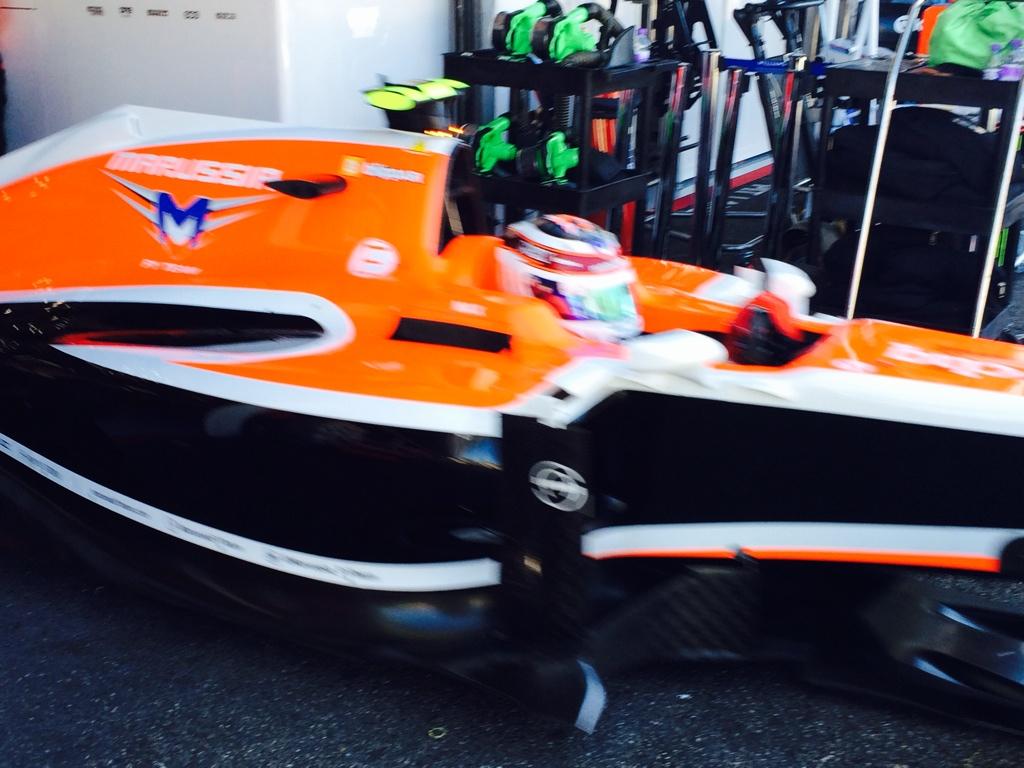 (Marussia F1 Team via Twitter)
The Marussia F1 Team's Max Chilton is hopeful that the team will be able to bring some minor updates to the car for the Belgian Grand at Spa Francorchamps which is immediately after the Summer break. Speaking to Sky Sports F1 following free practice one Chilton said that he did not expect much progress to be made in relation to the development of this years car due to the fact that there is the mandatory two week Summer factory shutdown.
Chilton finished the first practice session in 21st place following a lengthily stay in the garage following a gearbox fire as he came down the pit-lane. Thanks to some very fast work by the team he came back out towards the end of the session and managed to complete five timed laps and finish the session just ahead of team mate Jules Bianchi who finished the session in 22nd place.
In the second session, Chilton finished with the 21st fastest time just behind team mate Jules Bianchi. The Caterham of Marcus Ericsson finished the session in 22nd place.
When asked by Sky Sports F1 about who the team were targeting this weekend Chilton said that he will be hoping to challenge the Sauber's and maybe even the Lotus duo of Romain Grosjean and Pastor Maldonado.
Chilton was asked if the fact that Jules Bianchi's link to Ferrari was an extra incentive for him the English driver who joined Marussia last season said yes it was because if he manages to beat Bianchi on a regular basis then he may be noticed by one of the bigger teams.
He also welcomed test and reserve driver Alexander Rossi who joins the team from Caterham. The American will get his first outing for the team at the next Grand Prix in Belgium during Free Practice 1 and will be on stand by if either of the Banbury based teams driver's are unable to race due to illness or injury.
Marussia head into this weekend's race in Hungary in 9th place in the Constructors championship following Jules Bianchi's 9th place finish at the Monaco Grand Prix in May which earned both him and the team 2 valuable world championship points.
© Ben Johnston 2014