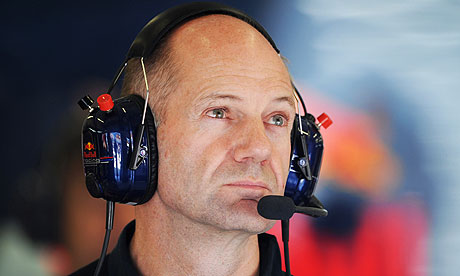 (www.theguardian.co.uk)
Infiniti Red Bull Racing's Chief Technical officer Adrian Newey has issued Formula One with a warning saying that if the sport continues restricting team designers in what they are allowed to do by constantly changing or introducing new regulations then the sport ins in danger of becoming like a single car racing series. Newey has taken a step back from Red Bull Racing in order to pursue other projects within the Red Bull stable.
Newey has revealed that the constant rule changes in Formula One played a key factor in his decision to leave Formula One.
This season, following the introduction of the new era of Formula One car each team has a somewhat different looking front wings and nose assembly however from next season onwards the car noses will be very similar.
His team Red Bull Racing have endured a difficult 2014 season after dominating the sport the past four season's and are currently in second place in the Constructors championship on 219 point's, 174 behind Mercedes while Daniel Ricciardo is in third place in the Drivers championship on 131 points while reigning world champion Sebastian Vettel is in 6th place on 88 points.
Despite their difficult start to the 2014 F1 season Infiniti Red Bull Racing have taken two Grand Prix victories with Daniel Ricciardo winning in Canada while the Australian also took victory at last weekend's Hungarian Grand Prix.
© Ben Johnston 2014