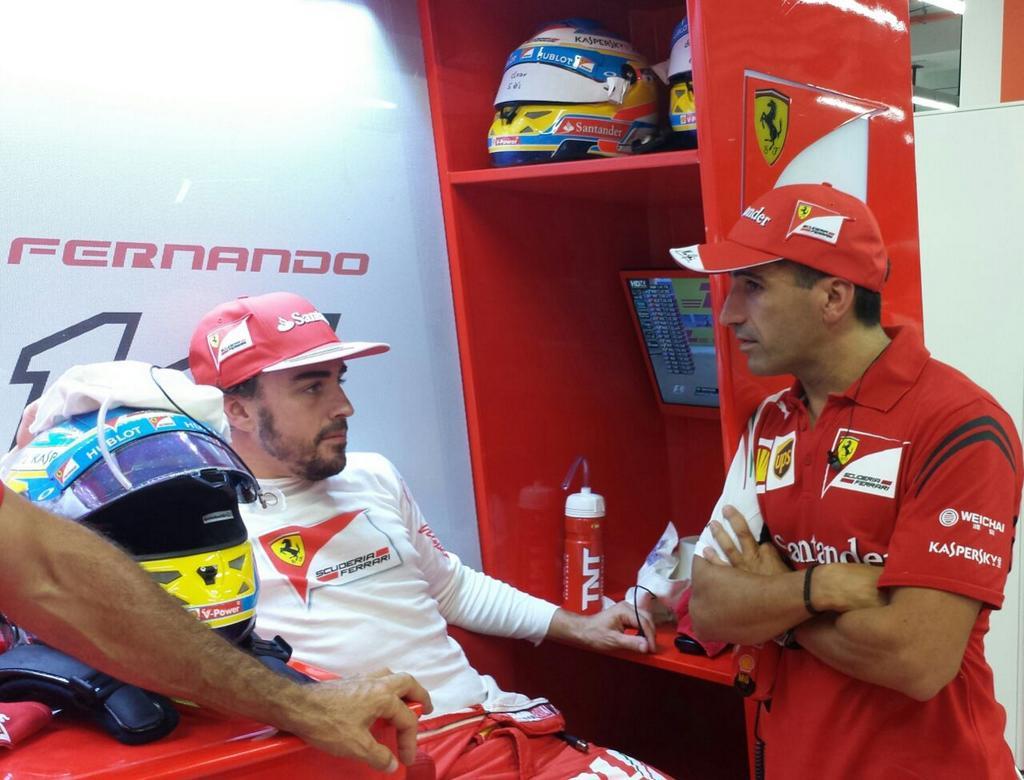 (Scuderia Ferrari SpA via Twitter)
Ferrari's Fernando Alonso topped the time-sheets in this morning's first practice session ahead of Sunday's Singapore Grand Prix. The Spaniard set the benchmark time of 1m 49.056s finishing the session just 0.122s ahead of Mercedes Lewis Hamilton who in turn was ahead of team mate Nico Rosberg.
Reigning world champion Sebastian Vettel was fourth fastest in the first of the Infiniti Red Bull Racing 0.818s behind Fernando Alonso. Daniel Ricciardo was fifth fastest in the second Red Bull. Jean Eric Vergne was sixth fastest for the for the Toro Rosso team while Kimi Raikkonen was 7th fastest in the second Ferrari finishing the session 1.727s behind Fernando Alonso.
Raikkonen had a difficult end to the session as he suffered a brake fire coming into the pit-lane which appeared to melt some small parts of his car. So the team will have a tough job to get the car ready for the second session later today.
Despite ending the session in in fourth place Sebastian Vettel suffered an engine failure right at the end of the session but it is not yet known whether or not he will have a ten place grid penalty for Sunday's race as the engines that teams use during Friday practice are usually coming to end of their mileage life. It will be an extremely busy time for the Red Bull mechanics however to get the engine changed for the next session this afternoon.
Jenson Button was eighth fastest in the first of the McLaren's finishing the session 1.866s behind Alonso and just ahead of Daniil Kvyat in the second Toro Rosso. Sergio Perez rounded out the top ten for the Sahara Force India Formula One Team.
Kevin Magnussen was eleventh fastest in the second McLaren while Nico Hulkenberg was 12th fastest in the second Sahara Force India. Felipe Massa was 13th fastest in the first of the Williams Martini Racing FW36's on a circuit where the Grove based outfit expect to struggle this weekend. Pastor Maldonado put in a good performance for the Lotus F1 Team as he finished the session in 14th place albeit 3.069s behind Alonso.
Valtteri Bottas was in 15th place in the second Williams finishing the session just ahead of the Sauber duo of Esteban Gutierrez who recovered from issues early on in the session to finish in 16th place just ahead of team mate Adrian Sutil.
Romain Grosjean was 18th fastest in the second Lotus just ahead of the Marussia F1 Team's Jules Bianchi. Marcus Ericsson was 20th for the Caterham F1 Team finishing just ahead of team mate Kamui Kobayashi while Max Chilton rounded out the runners 6.114s behind Alonso.
© Ben Johnston 2014