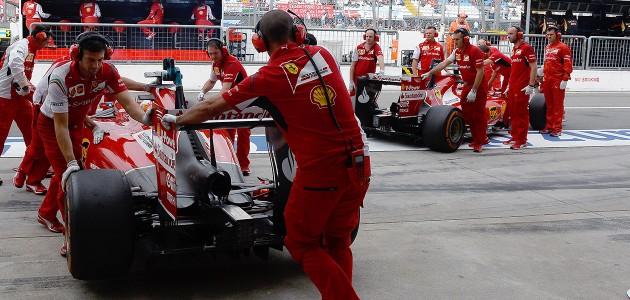 (Scuderia Ferrari SpA via Twitter)
Ferrari Technical Director James Allison is confident that the Italian outfit can overhaul the Williams Martini Racing Team and reclaim third place in the Constructors championship in the final five Grand Prix of the season starting with this weekend's Japanese Grand Prix at the Suzuka circuit. Ferrari are currently in fourth place, nine points behind the Grove based outfit.
Ferrari have endured an extremely difficult 2014 season which has seen the outfit score just two podium finishes which came at the Chinese Grand Prix in April and the Hungarian Grand Prix both courtesy of Fernando Alonso.
The team have also undergone a major change in management with Marco Mattiacci replacing Stefano Domenicali as team principal while FIAT chairman Sergio Marchionne replaced Luca Di Montezemelo as Ferrari chairman and president following the Italian Grand Prix. Speaking to the official Ferrari website ahead of this weekend's Japanese Grand Prix, Allison stated:
'
In Singapore, I think Mercedes probably had a bit more pace in hand, so that brought the front of the grid a bit closer together than normal,
Also, it's a track where the engine has a smaller effect compared with nearly all of the other tracks this year, so that provided another opportunity for the field to close up a bit. And finally, the nature of the corners at Singapore are also sensitive to the amount of mechanical grip that you can get from your package. That's certainly an area where Ferrari has been working recently and it allowed us to have a rather better weekend.'
Allison went on to say:
'We left Singapore with some satisfaction that areas we'd been working on the car, to improve its mechanical grip for example, appear to be paying off for us,
So we go to Suzuka and the remaining races determined to close the gap to Williams and then try and actually pull ahead of them, with the aim of securing a third place in the championship. We also plan to learn what lessons we can during the remainder of this season, to help guide us for the following year.'
Last time out in Singapore, Fernando Alonso finished the race in 4th place while Kimi Raikkonen finished the race in 8th place.
© Ben Johnston 2014