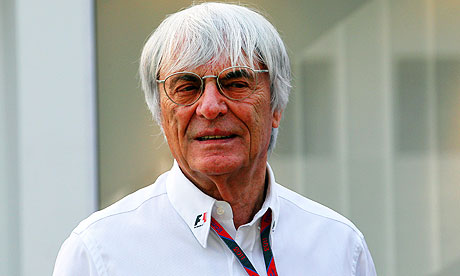 (theguardian.com)
Formula One commercial rights holder Bernie Ecclestone has confirmed that he was the one who came up with the controversial regulation to ban certain radio communications between Formula One driver's and their engineers in a bid to to reduce the aids that driver's use to assist them in race's.
As of this weekend's Singapore Grand Prix team's will no longer be permitted to communicate certain information relating to the performance of the car or advise driver's on the best course of action if they have a problem with the car. Speaking about the ban, Ecclestone said:
'
We have a regulation in force, 'drivers must drive the car alone and unaided'. They have been well and truly aided and still are, even if we get rid of this 'ship to shore', as I call it. There are still a lot of aids they shouldn't have.'
The 83 year old has also called on the FIA to ban certain telemetry data transfer from the cars to the pit-wall.
However some in Formula One have questioned the decision to ban certain radio communication. Williams Martini Racing's Felipe Massa commented on the situation in the Singapore paddock on Thursday:
'
Maybe he (Ecclestone) spoke to the drivers from the '80s, who do not know what it is like to drive these
cars,
I'm completely against it. It's something they could have done professionally.'
Massa also confirmed that it is something that he will be up with Formula One race director Charlie Whiting during Friday's driver briefing prior to the start of the on track action.
Sahara Force India's Sergio Perez is also against the idea. The Mexican stated:
'
It's not great they have made such a big change from one race to another. But I don't see it as a big deal. We will have more info and will be a bit busier trying to keep things under control, fuel modes and engine modes.'
Ferrari's Fernando Alonso is not concerned by the ban as he said that within the Italian team there is very little radio communication anyway so it will not affect the way the team do things during a race. Ferrari team mate Kimi Raikkonen believes that the biggest concern with the communication ban would be if there is a reliability issue with the car.
© Ben Johnston 2014