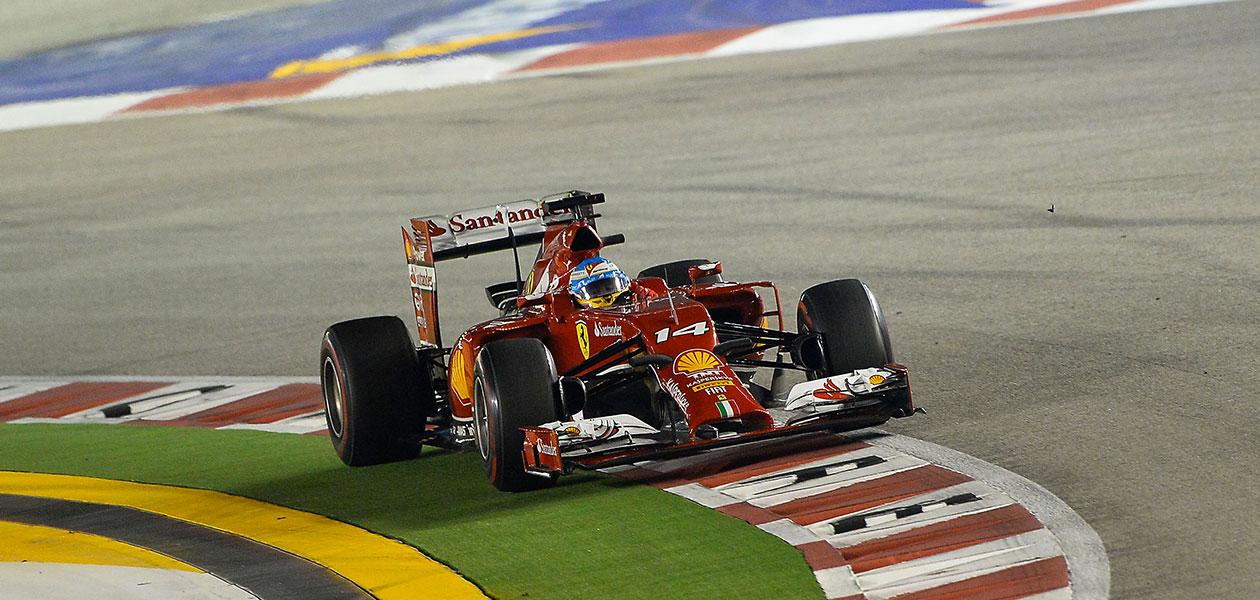 (Scuderia Ferrari SpA via Twitter)
The Ferrari Formula One Team had a mixed race in Singapore on Sunday with Fernando Alonso coming home in fourth place just ahead of former team mate Felipe Massa while Kimi Raikkonen was left disappointed after coming home in eighth place in the race.
The Finn had a disappointing qualifying session yesterday when he lost power on his final run in Q3, up until then the Finn had done a fantastic job. He finished Q1 top of the time sheet's just ahead of Fernando Alonso.
Speaking following the race, despite being disappointed with the race, Raikkonen is optimistic for the remaining Grand Prix of the season as he has seen improvements in the F14-T:
'
Today's race was really frustrating, because despite the fact we were quick, we weren't able to finish where we wanted. My start was good, I moved up a few places and everything was working perfectly. After the first stop, I lost a place to Felipe and from then on, I found myself stuck behind a Williams for the entire race.
Unfortunately, every time I managed to get close, I lost aero performance on the rear and on top of that, tyre degradation was very high. It's a real shame I was never able to run my race, even if we already knew that straightline speed is our opponents' strong point. I'm not happy with eighth place, but on the positive side, we have seen improvements this weekend. I'm sure that if, from now on, we don't have problems, things will go better.'
Fernando Alonso felt that he had been a little bit unlucky in the Singapore Grand Prix and made a fantastic start to the race although was forced to relinquish second place after he skipped the first corner of the Marina Bay circuit. The Spaniard commented by saying:
'
With hindsight, it's easy to ask oneself how things would have gone if I hadn't made a mistake at the start and the Safety Car hadn't come out when it did, but overall I'm pleased with this weekend, because we were competitive and were able to fight with the front runners. Sometimes, a Safety Car can help but I think that today on this front, we were a bit unlucky, because at that moment, we were trying to make sure of second place and our strategy was good.
We didn't have much of an alternative, because if we had stayed out, the probability was that the stop for the Softs would have cost us more places. Even if in the end, I wasn't able to get past, the fact we were competitive right to the finish confirms we have made a step forward. Now, in Suzuka, a real circuit, we will have a clearer picture of where we are.'
Ferrari leave Singapore following an encouraging weekend for the Italian team. The team have managed to close the gap to the Williams Martini Racing Team to 9 points as they aim to overhaul the Grove based outfit next time out at the Japanese Grand Prix next time out. Speaking about the Singapore Grand Prix weekend Ferrari Technical director Pat Fry commented:
'
Here in Singapore, the performance of the two F14 Ts was a pleasant surprise, as we have never been as close to the front runners this season. The technical characteristics of the track, our development work, the talent of our drivers and the way our car worked on the softer tyres are just some of the elements that explain our good form this weekend.
While very encouraging, it was still not enough to achieve the team's objectives and it was a real shame to see second place slip from our grasp with Fernando because of the Safety Car. Unfortunately, with Kimi we didn't manage to get the most out of the car: he had the potential to get a better result, if hadn't been for Massa undercutting him and then, even though he was on fresher tyres, he did not have the top speed to pass Bottas on the straight.
Like Monaco, this is a track where it's hard to overtake and the arrival of the Safety Car can jumble up the order. Now, in Suzuka, we will have another opportunity and once again, we will try and fight the Red Bulls and especially the Williams in the Constructors' Championship.'
© Ben Johnston 2014