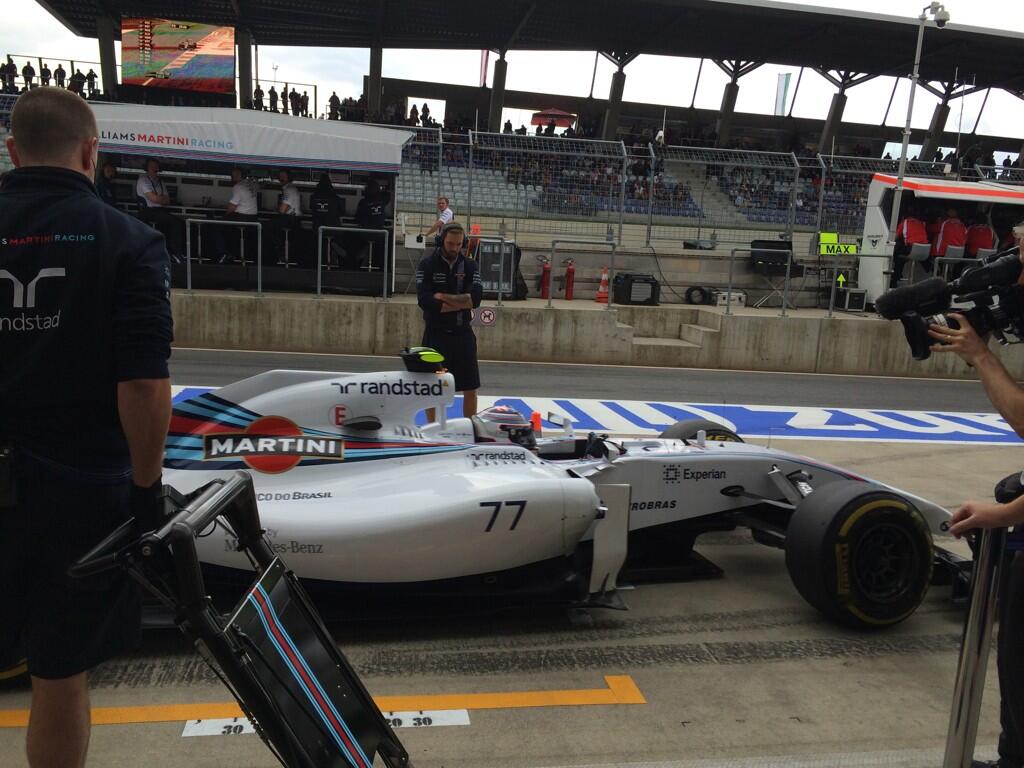 (Williams Martini Racing)
Williams Martini Racing's Valtteri Bottas set the benchmark in Free Practice Three on Saturday morning with a time of 1m 08.484s to finish the session just ahead of Mercedes Lewis Hamilton, who underwent a set up change during practice. Felipe Massa was third fastest in the second Williams proving that the Grove based outfit seem to have very good pace at the Red Bull Ring this weekend.
The surprise of the session was Toro Rosso's Daniil Kyvat who set the fourth fastest time for the Italian team so he could be in for a good result in qualifying. The Russian has raced here recently having started from pole here last season in GP3.
Championship leader Nico Rosberg was 5th fastest for Mercedes. The Brackley based outfit may have been carrying out heavy fuel runs as both Hamilton and Rosberg topped the timesheets during Friday's practice sessions. Ferrari's Fernando Alonso was 6th fastest as the team work with some new parts on the F14-T such as a new rear wing.
The Spaniard finished the session just ahead of Red Bull Racing's Daniel Ricciardo, who ended the session two tenths of a second ahead of team mate Sebastian Vettel in 7th place. Kevin Magnussen finished the session in 8th pace for McLaren while Kimi Raikkonen finished the session in 9th place.
Reigning world champion Sebastian Vettel rounded out the top ten for Infiniti Red Bull Racing. Nico Hulkenberg finished the session in eleventh place for the Sahara Force India F1 Team while Pastor Maldonado enjoyed a decent session for the Lotus F1 Team as the Venezuelan finished the session in 12th place. While Daniil Kvyat finished the session in fourth place, his team mate Jean Eric Vergne struggled and finished the session in 13th place just ahead of Romain Grosjean in the second Lotus.
Sergio Perez was 15th fastest in the second Sahara Force India F1 Team despite running wide coming out of the final corner and bouncing over the curbs so he will be lucky if there is no damage to the floor of the VJM07.
Adrian Sutil was 16th fastest for the Sauber F1 team while his team Esteban Gutierrez finished in 17th place. Jules Bianchi was the fastest of the newer team's in 18th place finishing just ahead of Caterham's Kamui Kobayashi and Marcus Ericsson in 19th and 20th respectively. Max Chilton ended the session in 21st place while it was an extremely disappointing session for McLaren's Jenson Button as the 2009 world champion suffered from a brake failure following a suspected brake fire.
The Woking outfit also had to change the floor on Button's MP-29 which meant that he was unable to complete a low fuel run with the super soft tyre. Qualifying gets underway at 1PM (UK time).
© Ben Johnston 2014