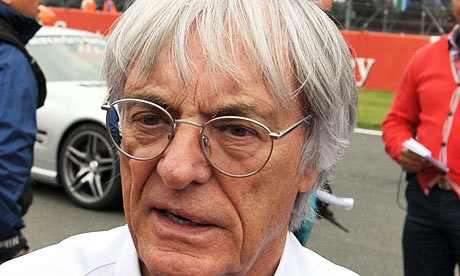 (TheGuardian.com)
Formula One commercial rights holder Bernie Ecclestone has stated that he would have no complaints if some team's were to drop out of Formula One. There has been speculation surrounding both the Sauber and Caterham F1 Team's recently both of whom are yet to secure a championship point so far this season. There had been rumors that the Caterham F1 Team were for sale however, team owner Tony Fernandes took to Twitter recently to confirm that the Leafield based outfit is not for sale.
Ecclestone has said that team's should not be in F1 'if they can't afford it'. Ecclestone also stated that 'We have too many rules that are not necessary'.
Formula One is set to have two new team's on the grid from 2016 onwards which provided no current team's have any further financial issues will mean that there will 13 team's on the grid in 2016.
The current structure in Formula One is that team's receive prize money on the basis of where they finish the previous year in the championship and that new team's have to wait three year's before they receive a share of the prize money fund.
Ecclestone's comments come as American Gene Haas prepares to enter Formula One from 2016. The NASCAR team owner has been granted entry into Formula One from next season but has postponed coming into Formula One until 2016 in order to properly prepare for entry into Formula One.
© Ben Johnston 2014