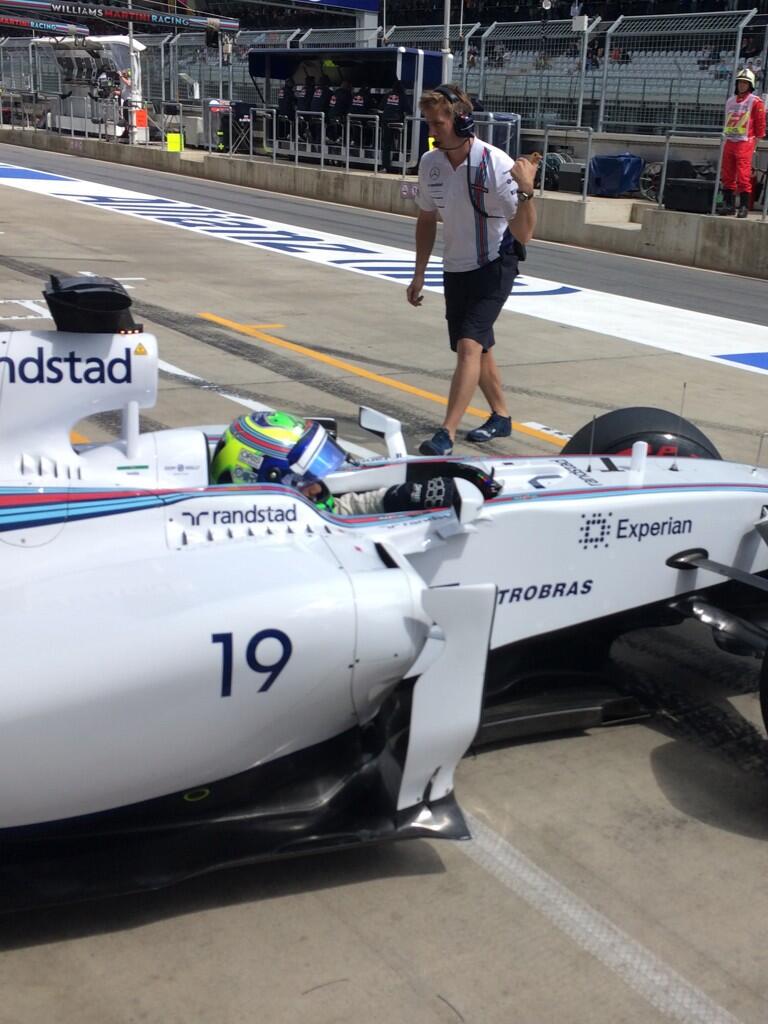 (Williams Martini Racing)
Felipe Massa will start tomorrow's Austrian Grand Prix at the Red Bull Ring from pole position after setting a time of 1m 08.759s to finish just ahead of team mate Valtteri Bottas giving the Williams Martini Racing Team a front row lock out, It is the first non Mercedes F1 Team pole position of the season. Championship leader Nico Rosberg will start the race from the second row in third place for Mercedes starting the race just ahead of Ferrari's Fernando Alonso.
Following the session, Felipe Massa, who has secured his first pole position since the Brazilian Grand Prix in 2008 said:
It's an incredible moment for me, but the whole team is feeling this too. The team has a great history and we continue to build on that. It's a special day. I had some traffic earlier in the session but when it counted I did the best I could. There is a lot to do tomorrow and we have a very strong Mercedes behind us. Today is a day I won't forget though and it's the first time my son has seen me get pole so emotions are high.
Valtteri Bottas, who starts alongside Massa on the front row said:
'
I am really happy for us as a team as it is such a good result. It couldn't have been a better Saturday for us. I would have liked to have been on pole, but Felipe had the better lap when it mattered. Tomorrow isn't going to be easy as the Mercedes are still the quickest car. I pushed a bit too hard on my final lap at Turn Six, but I was already down on my quickest. Tomorrow the strategy will be important and so we have to be clever with what we do. We are in a better position than the Ferraris and the Red Bull so it should be really good fun.'
Williams Martini Racing's Head of Performance Engineering Rob Smedley, who was Felipe Massa's race engineer at Ferrari when the Brazilian secured his last pole position stated:
'
I am really pleased. The guys have done a very good job. This is just the start of the 71 laps though but we will start in the best position possible. We need to think hard about how we maximise this in terms of points at the end of the race. Tomorrow will be hotter but we know from our long runs where the issues will be that we will face, it will be a defensive race tomorrow as we try to keep everyone else behind us but for the team this is a much deserved result for all the hard work that has been put in both at the factory and race track.'
Speaking to Sky Sports F1 after qualifying Williams Martini Racing deputy team principal Claire Williams was delighted with the result saying:
'
I'm in a bit of shock, I think maybe everyone is.
But that's the result of a lot of hard work that's been going on behind the scenes over a long time now and I'm so happy for everyone in the team here and at Grove.
They deserve it.
I'm not sure we necessarily expected this today, but I'm so happy for Felipe, he deserves this. He's had a lot of bad luck over the past few races and I just hope we can now work on a really good strategy for tomorrow and capitalise on these positions because we have got to score a lot of points tomorrow.
Daniel Ricciardo put in a great performance for Infiniti Red Bull Racing at the team's home track and will start the race from 5th place on the grid. Following the session, the Australian said:
'
It was tough out there. It's been tough all weekend to be honest and it's felt like we've had to squeeze everything out of the car to get into the top 5, which we just managed to do today. All weekend we've been on the back foot and I think respect to the other teams, they managed to get their cars dialled in well for this weekend and we've just got to keep pushing. Fifth was the best we could have done in that session today.'
McLaren's Kevin Magnussen who put in a strong performance for the Woking based outfit. The Dane said:
'
If everything had been perfect today, I think we could have been in the top five. I made a tiny mistake at the final corner on my final lap in Q3, but, even so, I'm happy enough with how things went today. And I think the whole team can feel satisfied, too: we're definitely making progress, so we just need to keep it up now.

"It's also nice to see a bit more of a mixed-up grid. It's quite surprising that the gap to Mercedes has been closed so quickly, and it's good to see a Williams on pole.
"Looking ahead to tomorrow, I don't know if our race pace will be as strong as our qualifying pace was today. But we'll do our best.'
Daniil Kvyat will start the race from 7th place on the grid for Toro Rosso while Kimi Raikkonen will continued to struggle with the Ferrari and will start the race 8th place. Lewis Hamilton spun in Q3 and had his time deleted but will start the race from 9th place as Nico Hulkenberg's time was also deleted. Despite this, the Sahara Force India driver will start the race from 10th on the grid. The German said:
'
It's quite an interesting grid so it looks like there are all the ingredients for an exciting race. I felt pretty good through all of qualifying and was building up my speed nicely for Q3. It's a shame my lap in Q3 was disallowed, but it's difficult when you're pushing so hard and I obviously ran a little bit wide. At the end of the day losing the lap only changed the result by a few positions so I'm still in good shape for the race.
It's been a long time since Formula One was last here so there are a lot of unanswered questions going into the race. We don't know how the different strategies will unfold, or how the tyres will behave, but I think we've shown recently that we have a very strong race car. Points will be the goal tomorrow.'
Sergio Perez qualified in eleventh place put will take a place grid penalty so will start the race from 16th. The Mexican said:
'
We tried to do just one flying lap on my last Q2 run but unfortunately it was not possible to put together the perfect lap. This is a very tricky circuit and we struggled to get the tyres working at their best, but I don't think that will be so much of an issue tomorrow.
It will be a very challenging race and starting five places back from where we qualified won't be easy, but we need to look ahead and see what can be done to improve our position tomorrow. The first lap will be important and strategy will be crucial to get a good result because overtaking looks to be difficult around here. We have a lot of tyres available for the race so we should try and use this to our advantage to move up into the points.'
Sahara Force India's deputy team principal Bob Fernley said:
'
It's been a very solid afternoon by the team, which sets us up nicely for tomorrow. The progress made overnight and this morning solved a lot of the balance problems we experienced yesterday and we were in good shape going into qualifying.
Checo was close to making Q3, but Nico made the cut only for his quick lap to be disallowed. He will line up in P10, but with the long run pace we showed yesterday both cars have every chance of moving forward and coming away with some more important points.'
As a result of the penalty for Perez, Jenson Button will start the race from eleventh for McLaren. Following the session Button said:
'
You never really know how much you lose from missing FP3, but it meant we were a little in the dark on set-up going into qualifying.
"Having said that, I think I could've made it into the top 10 if my last run in Q2 had worked out: I was about seven seconds behind Romain's [Grosjean] Lotus, which locked up and run wide at the first three corners. While he eventually pulled over and let me pass, it lost me a bit of time.
"You never know what overtaking will be like in the race. But, being outside the top 10, we can run new tyres at the start of the race, and we can play with the strategy. The DRS zones look interesting, too; not having one at the exit of Turn One looks like it'll make racing more fun – now, you'll have to make a move to overtake rather than just passing along the straights, which is what it should be about.'
Reigning world champion Sebastian will start the race from 12th place after dropping out of Q2. The German said:
'
There were no real problems today, other than that we weren't quick enough. Daniel was quicker in Turn 5 and has been quicker in Turn 2 all weekend. We'll see how it goes for the race; it should be hotter tomorrow and hopefully we can make a big step and take on some of the other cars.'
Infiniti Red Bull Racing team boss Christian Horner believes that despite the outfits performance in qualifying they have a good race pace. He said:
'
I think P5 was the maximum we were going to get out of today with Daniel, who extracted everything he could from the car, in what was a difficult qualifying session for us. Sebastian struggled to generate the pace over a single lap and it was obviously disappointing not to make it through into Q3. More encouragingly, our race pace looks better and hopefully if temperatures increase, we'll be pushing to make a lot of headway tomorrow in front of Red Bull's home crowd.'
Pastor Maldonado will start the race from 13th place for the Lotus F1 Team which was a great result for the team following a difficult start to the season for the Enstone based outfit. Jean Eric Vergne will start the race from 14th place in the second Toro Rosso while Romain Grosjean will start from 15th place in the second Lotus.
Sergio Perez will start the race from 16th place. Adrian Sutil had a difficult session for the Sauber F1 Team and will start the race from 17th place on the grid alongside team mate Esteban Gutierrez who will start from 18th place.
Jules Bianchi was the fastest of the young team's in his Marussia outqualifying the Caterham of Kamui Kobayashi who will start the race from 20th place. Max Chilton will start from 21st while Marcus Ericsson rounds out the grid in the second Caterham in 22nd place.
We are in for a cracking race tomorrow and it certainly going to be an extremely exciting start.
©Ben Johnston 2014